Infinitely Recyclable
Aluminum can be recycled over and over and over...

Recycled Most Often
Aluminum is recycled 4X more often than plastic

Sustainably Sourced
Ultra hydrating natural spring water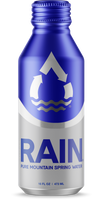 Recycled Material
Made from up to 100% recycled material

BPA Free Liner
Non-toxic liner keeps the water fresh and safe

Colder Faster
~1300X more thermally conductive than plastic
Better for you, better for the planet
Plastic-free natural spring water. The most sustainable thing to happen to bottled water, is aluminum.​
Natural spring water bottled in aluminum for plastic-free bodies and oceans.
Founded in 2018, RAIN Pure Mountain Spring Water is on a mission to end our dependance on single use plastics. While convenient bottled water is one of the largest contributors to our plastic waste problem, we aim to change that.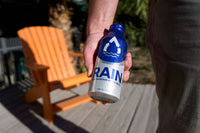 In a true temperate rainforest deep in the Appalachian Mountains, rain falls at over 65″ a year. It slowly filters through sustainable underground aquifers collecting naturally occurring electrolytes and beneficial minerals along the way. The ultra-pure spring water is harvested at the source with no mechanical energy before being bottled in a Planet-Friendly all-aluminum can.

Shop